Posted By: Jonathan Harvey on July 20, 2012 at 9:47 pm
Posted By: Jonathan Harvey on April 14, 2011 at 9:52 am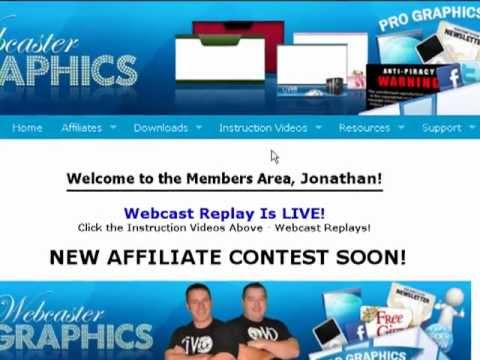 I know lot's of us, myself included, when given a choice of Microsoft Office or Open Office would rather use Open Office.
Now if you do Power Point Presentations and use Open Office this tip may help you raise the bar.

Webcaster Graphics is a cool graphics pack I found loaded little nuggets. The Power Point Backgrounds is just one.
Links to both  Open Office and Webmaster Graphics can be found on this page.
Hopefully this has been a help to someone.
Posted By: Jonathan Harvey on December 26, 2009 at 8:48 pm
Your First Step in Branding!
When you use your real name in your email signatures, forum signatures and blog comments you are taking your first step in branding yourself to the Internet.
This is an important first step in name or brand recognition. Strive to make your name a Internet brand. Just like Tide and Clorox are household brands.
When it comes to household products they are imediately known, liked and trusted.  That is what I want on the internet. How about you?
Well that's it for this post.
See you in a few days.
Your Partner In Success,
Jonathan Harvey
PS: This is my first video blog post let me know what you think of this post or this idea. All comments and questions are welcome.
Posted By: Jonathan Harvey on December 19, 2009 at 9:54 pm
I have been working for quite some time on getting a custom blog up and running.
Now that I have taken the time to do it, I plan to make it an intricate part of my internet business.
You see, I believe in maintaining a close connection with my business friends and associates. That's right I said "friends" and associates.
I've got this idea I can't shake. I think people like doing business with other people they Know, like and trust. Weird huh or is it?
I  have recently been blessed to know and like the right business friends and be in the right possession at the right time for some great tools to be…
..well kinda thrown into my lap.
I love getting great stuff that I don't have to pay extra for and that saves me money, to boot!
Now my good fortune is going to have a multiplied effect on you because…
I am going to use my unlimited auto responder system to send a great newsletter,
"The Serious Promoter Report"! You're here you may already be a subscriber.
I am going to use my unlimited video production suite to create squeeze pages for the newsletter and make video post to this blog. My next post will include video.
And, I'm going to use my VoIP conference room as a virtual office to assist the people in my inner circle in any way I can to insure their success.
Oh, one more thing for this post. I plan to link my blog, my newsletter and my conference room one to another so they can all be easily accessed.
So, if you want to know how I got these great tools and you are not one of my  newsletter subscriber you can become one from the newsletter opt-in form for "The Serious Promoter Report" at the top on your right.
That is all for now.
Have a Happy Holiday!
Your New Partner In Success,
Jonathan Harvey